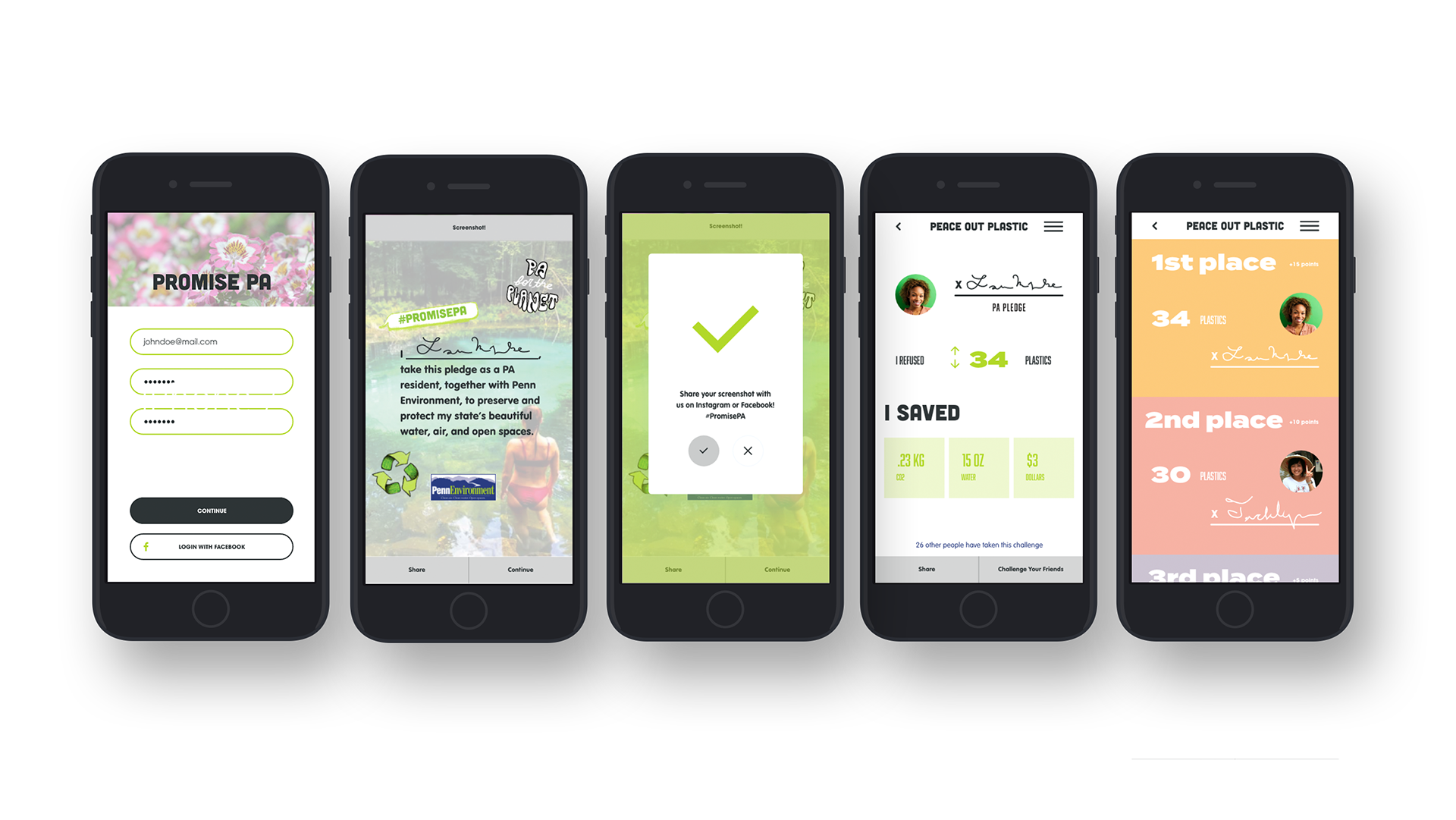 Project Type:

Advertising Campaign Pitch 
Roles:

UX/UI Designer, Art Director, Team Leader, Student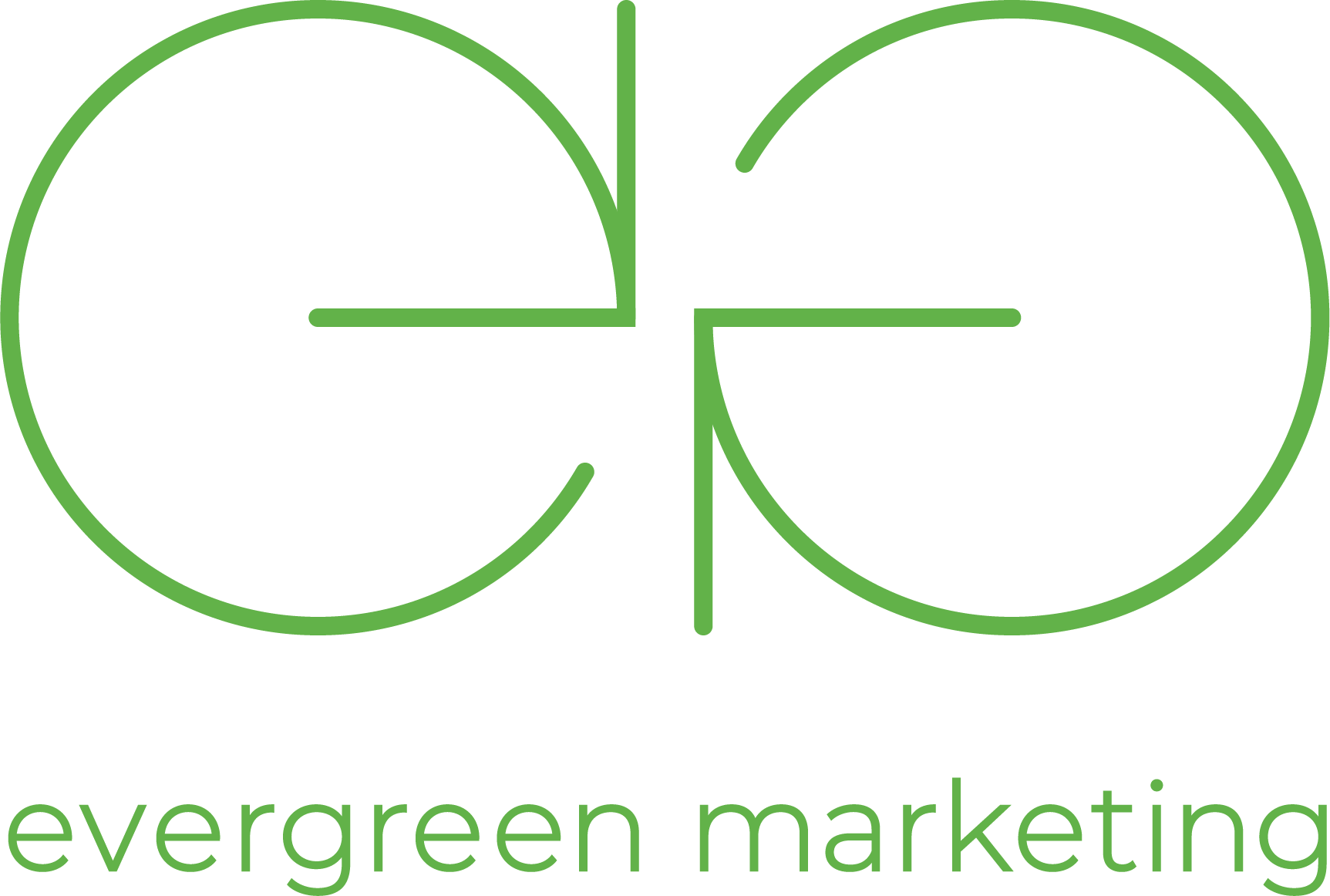 Since PennEnvironment is a statewide, citizen-based environmental advocacy organization, Evergreen Marketing decides to stand as a symbiotic community of positive, environmentally concerned marketers, ready to stand tall no matter the conditions.
REQUEST FOR PROPOSAL TAKEAWAYS

​​​​​​​
Build brand awareness amongst target
Build awareness around the current waste problem
Convince the target to take action within their local government to solve the waste problem
Is our audience aware of PennEnvironment? Are they aware of the waste problem?
How do we get the most engagement from our audience without ostracizing?
Does our audience believe they have the potential to solve the waste problem and other environmental issues?
Google Survey distributed through Canvas, Text, Facebook Groups
84% 
of respondents do not believe that everyone has access to a waste-free environment
84% 
of respondents have never heard of PennEnvironment
87.5% 
of respondents were willing to volunteer
90% 
of respondents believe they do not have the time or resources to volunteer
40% 
of respondents consider government-mandated environmental policy as highly important
CREATING THE CREATIVE BRIEF 
RECOMMENDED POSITIONING
​​​​​​​
To 18-24 year old Pennsylvanians who

care about the environment

and believe they

don't have the time or resources

to make positive changes, PennEnvironment provides

convenient opportunities

to progress environmental policy and stop waste compilation.
18-24 year-olds care about the environment and are
aware of the current waste problem
, but they do not think they have the time to make positive changes, and therefore
do not voice their concerns
to local officials.
PennEnvironment makes it easy to change environmental policy without changing your schedule.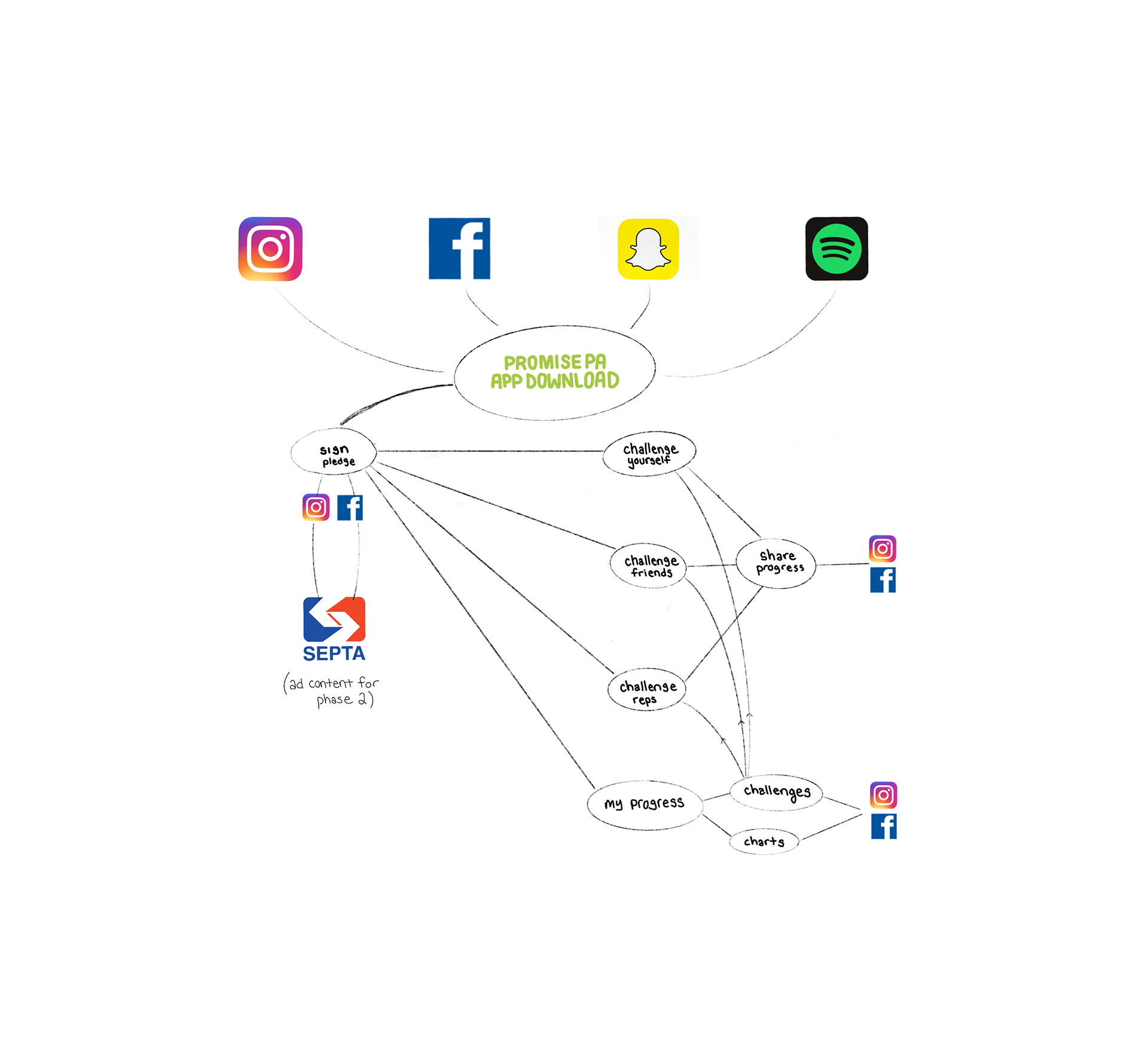 PART ONE: Targeting the First 40%
Create Earned Media and Collect User Generated Content
Completely Digital, Word of Mouth Marketing
Instagram, Facebook, SnapChat, Spotify
PART TWO: Targeting the Second 60%
Be perceived as modern, present and trustworthy by using Earned Media 
Print, Guerilla and Word of Mouth Marketing
Septa Ads, Guerilla Markering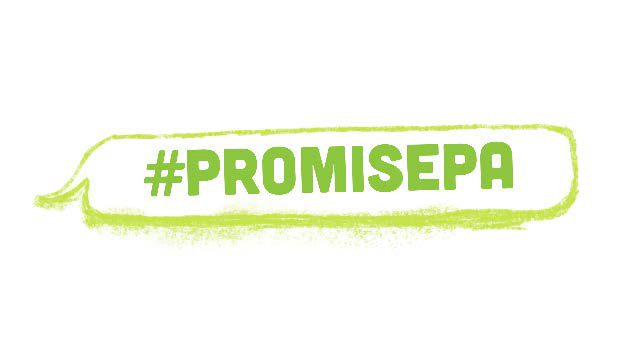 An app that challenges 18-24 year olds who care about the environment and see a waste problem to learn and share about convenient opportunities and progress environmental policy.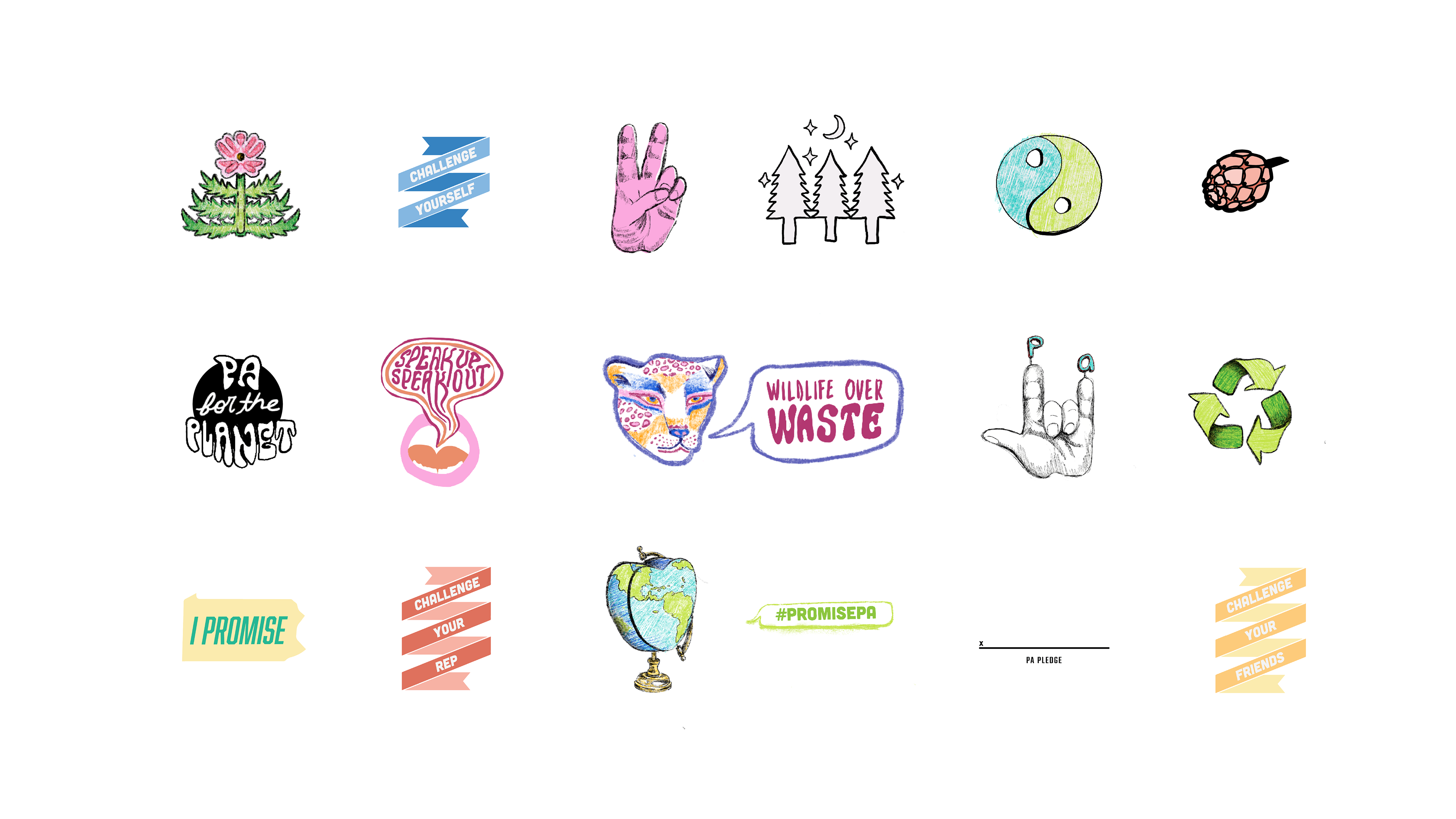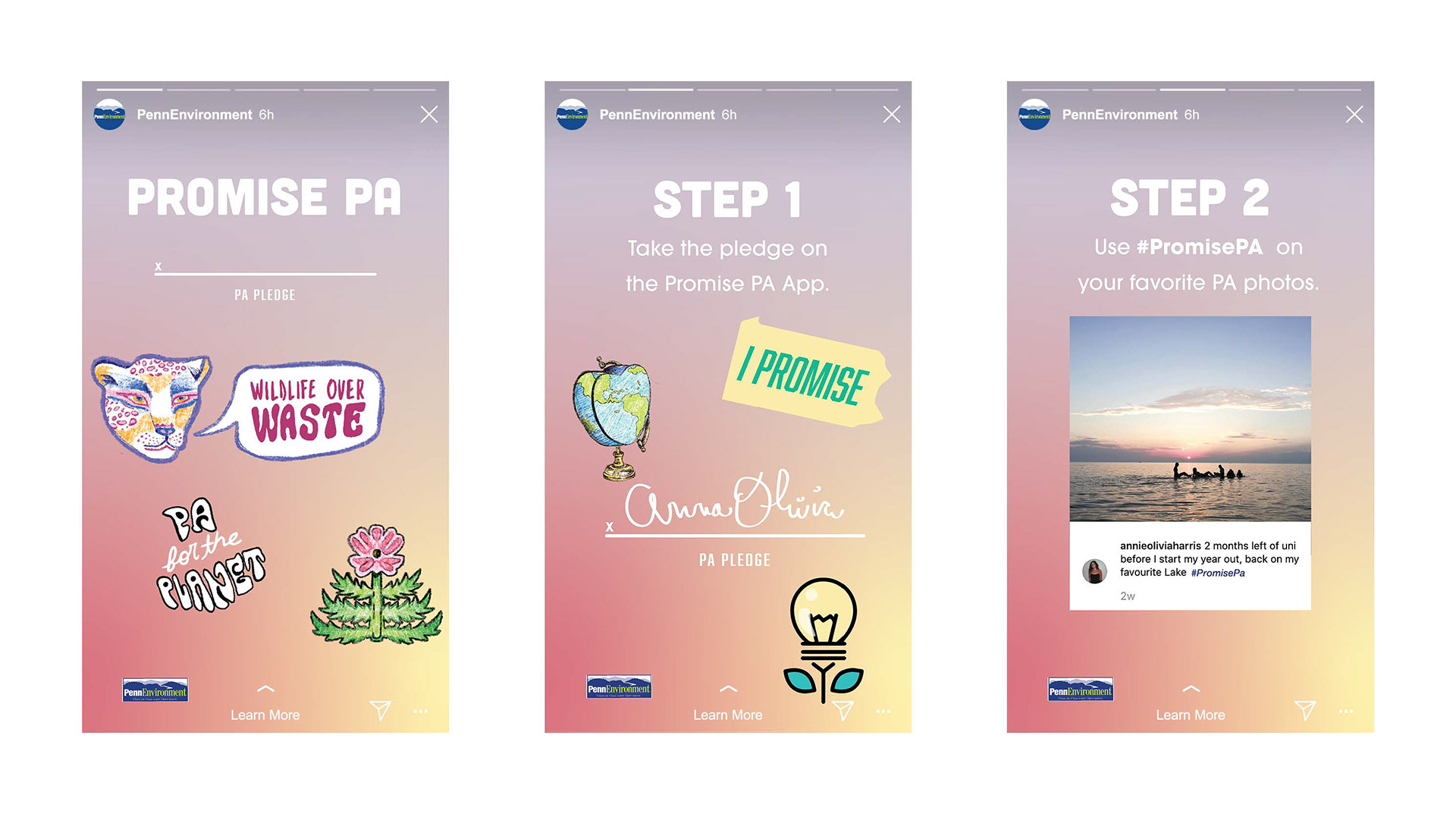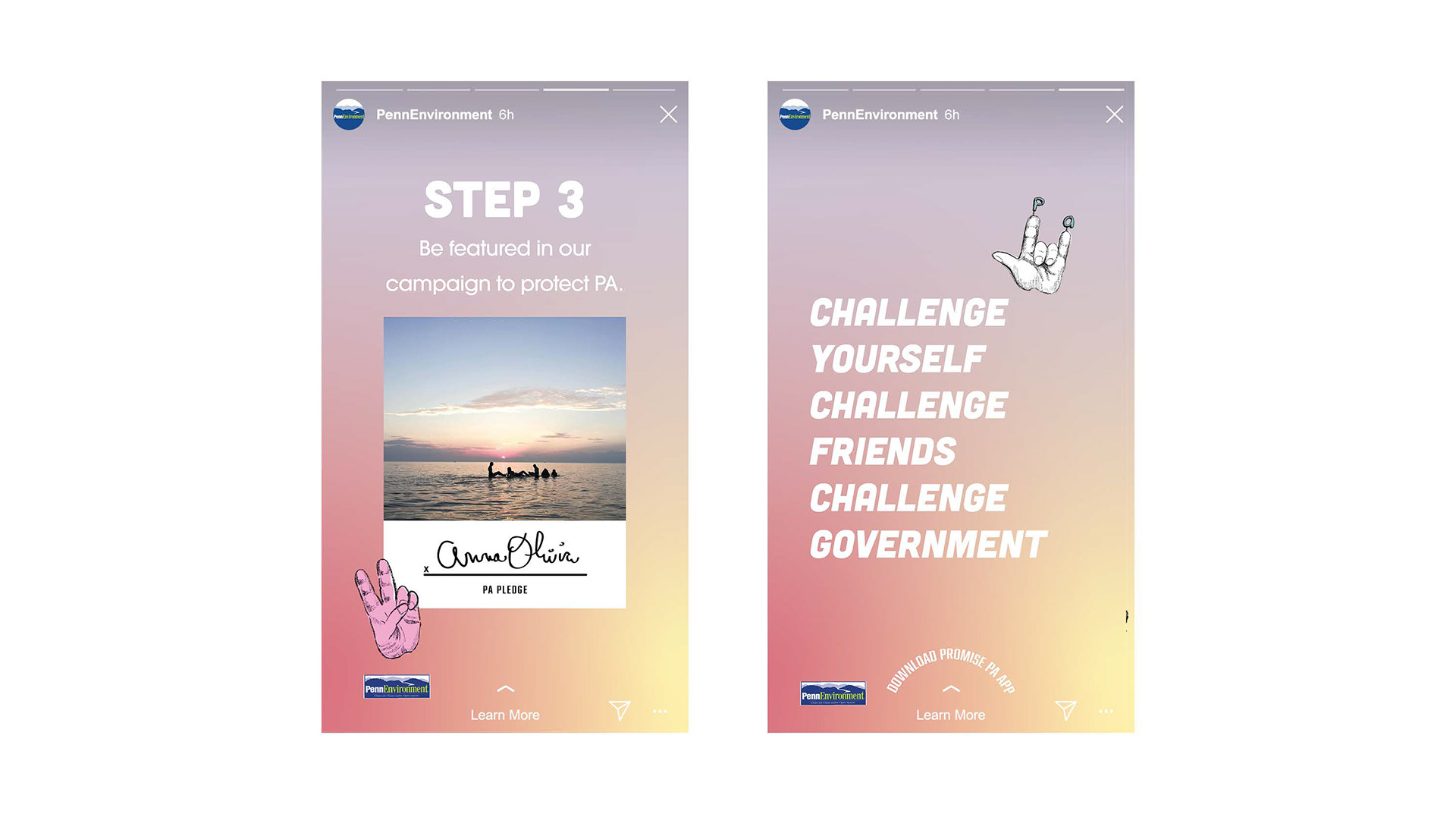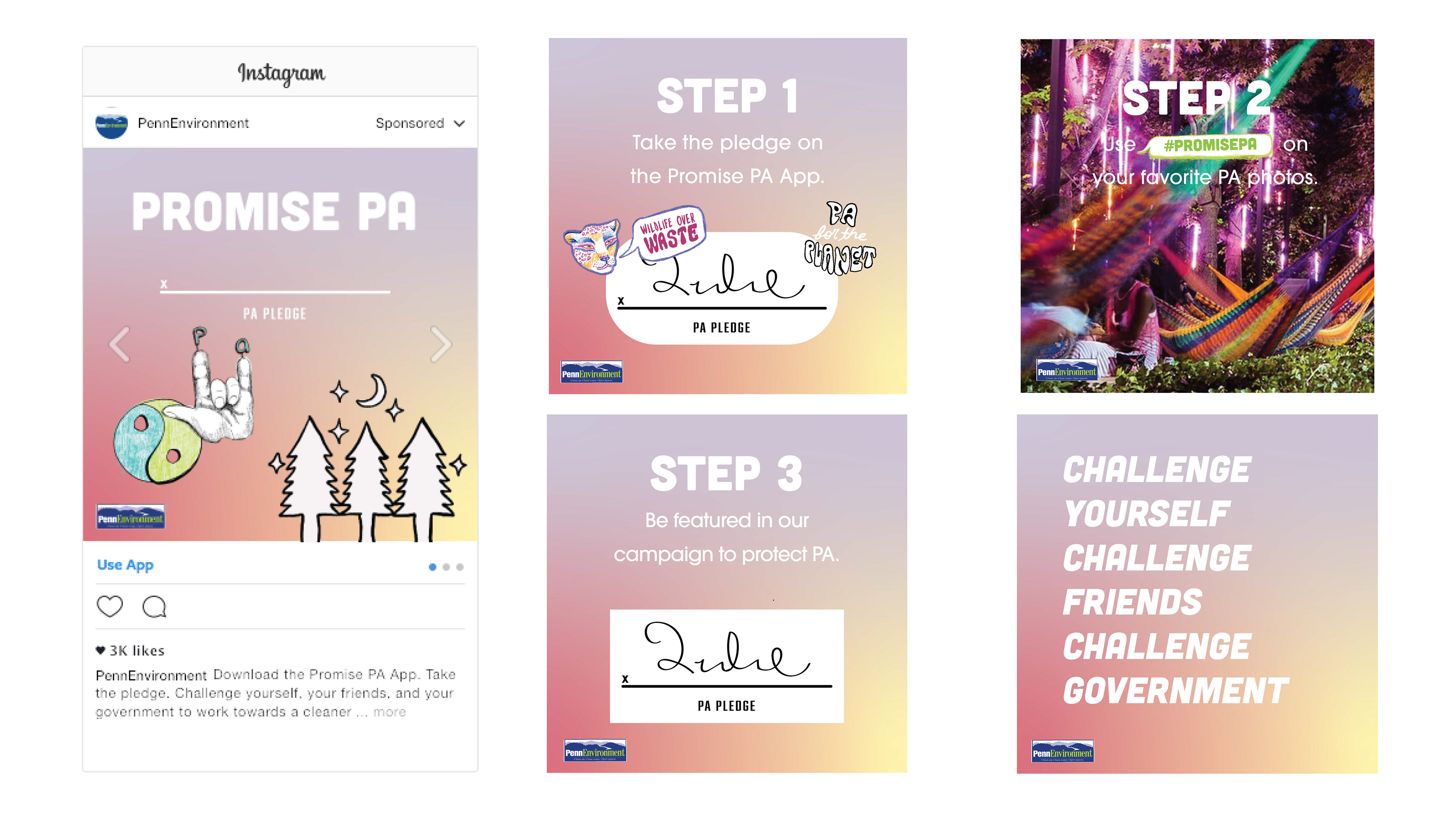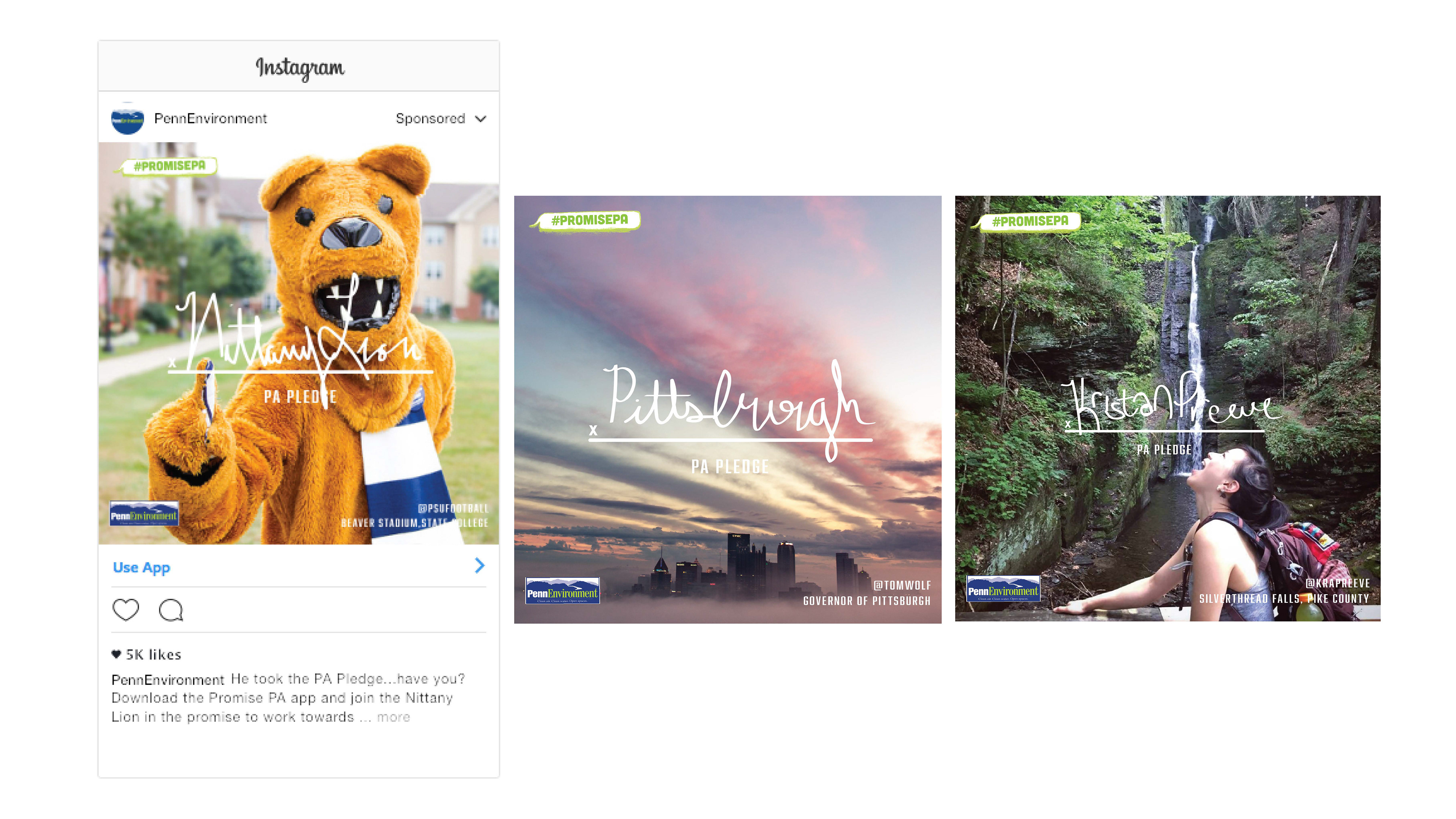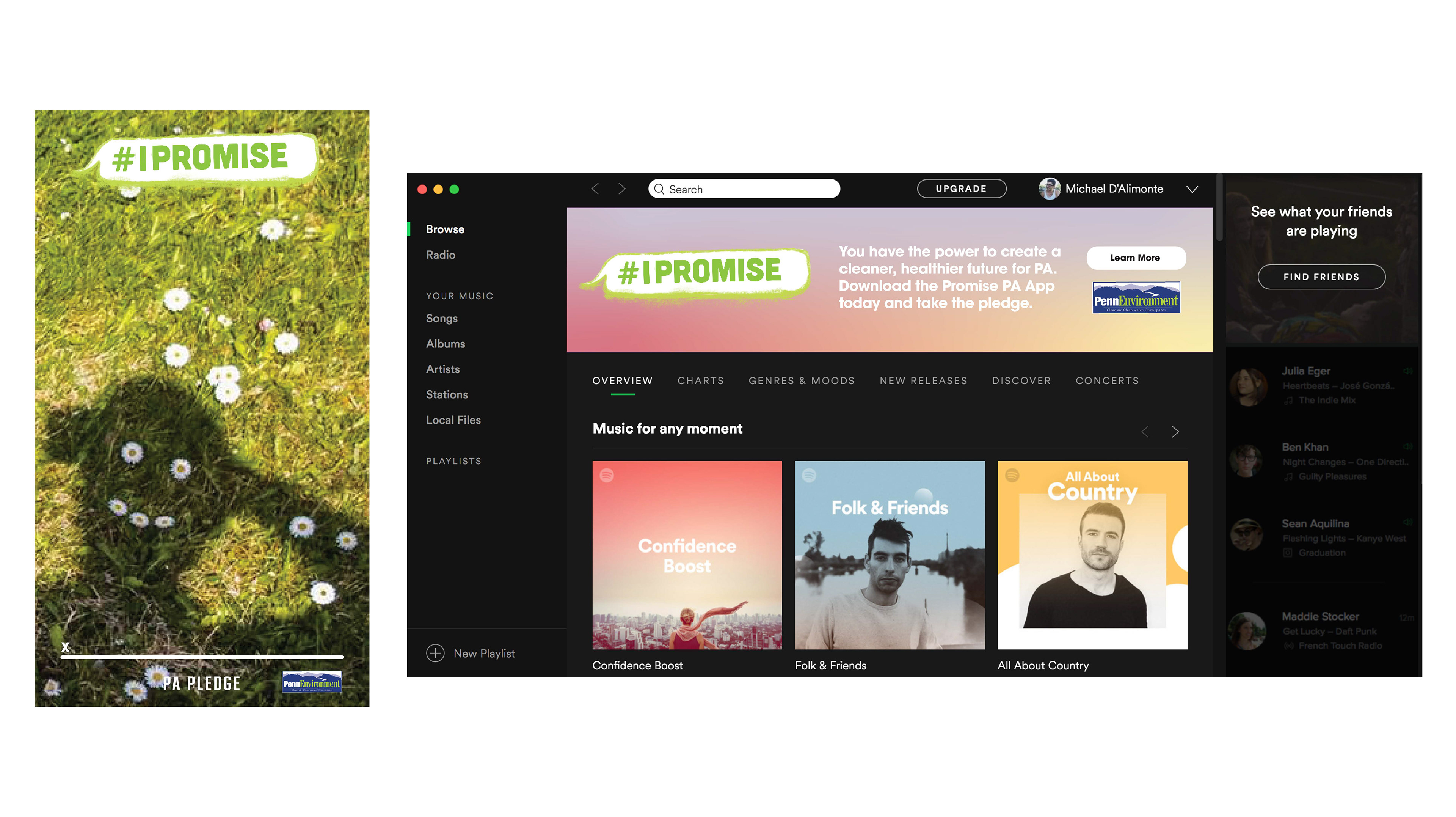 To make PennEnvironment's mission personal, the first activity the user is prompted to do is sign their name to seal their promise to preserve Pennsylvania. 
To spread the campaign, users can customize their promise with stickers and a photo to share on social media: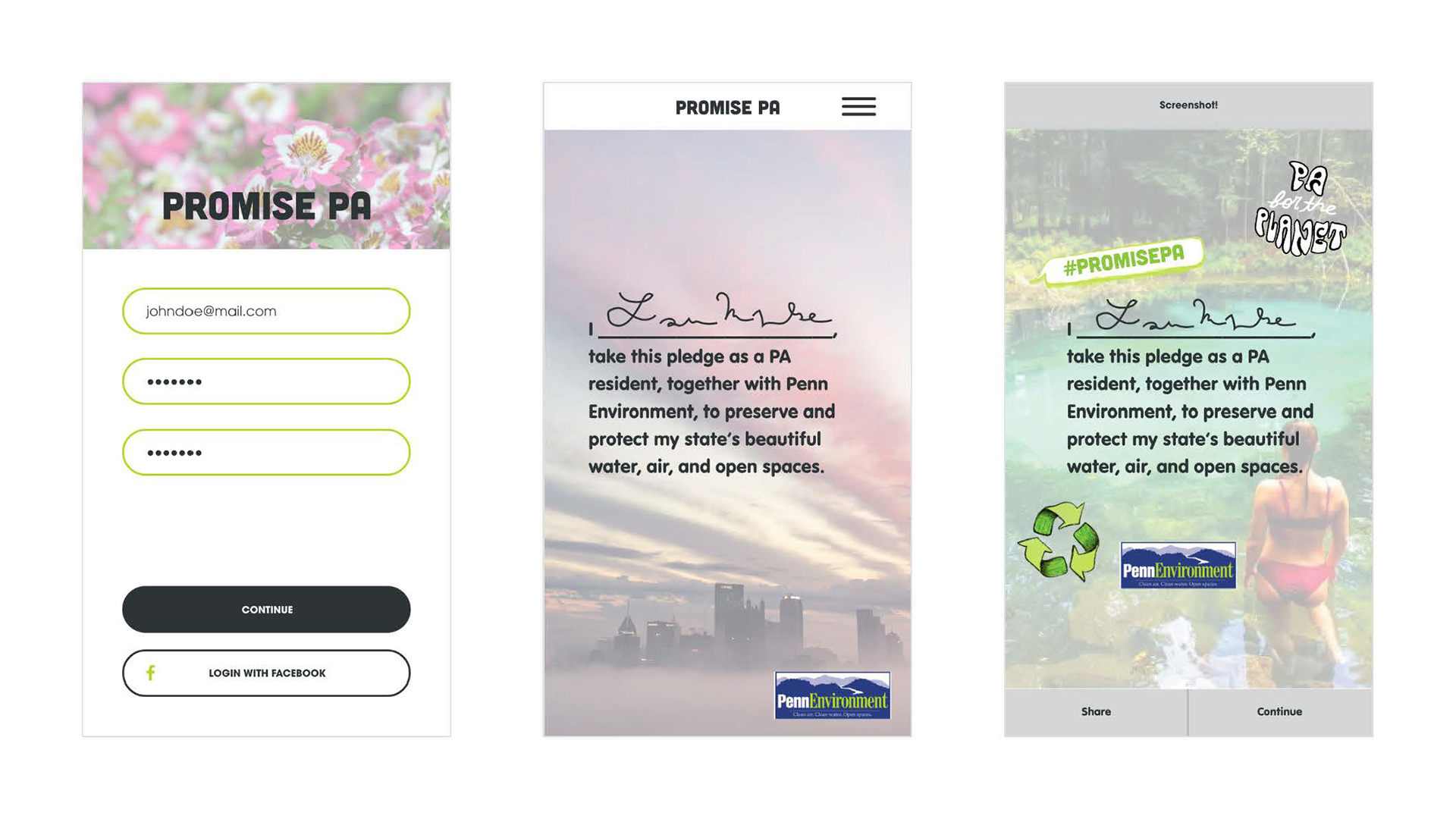 - Convenient waste awareness resource
- Easy environmental learning
- Simple waste tracker
- Social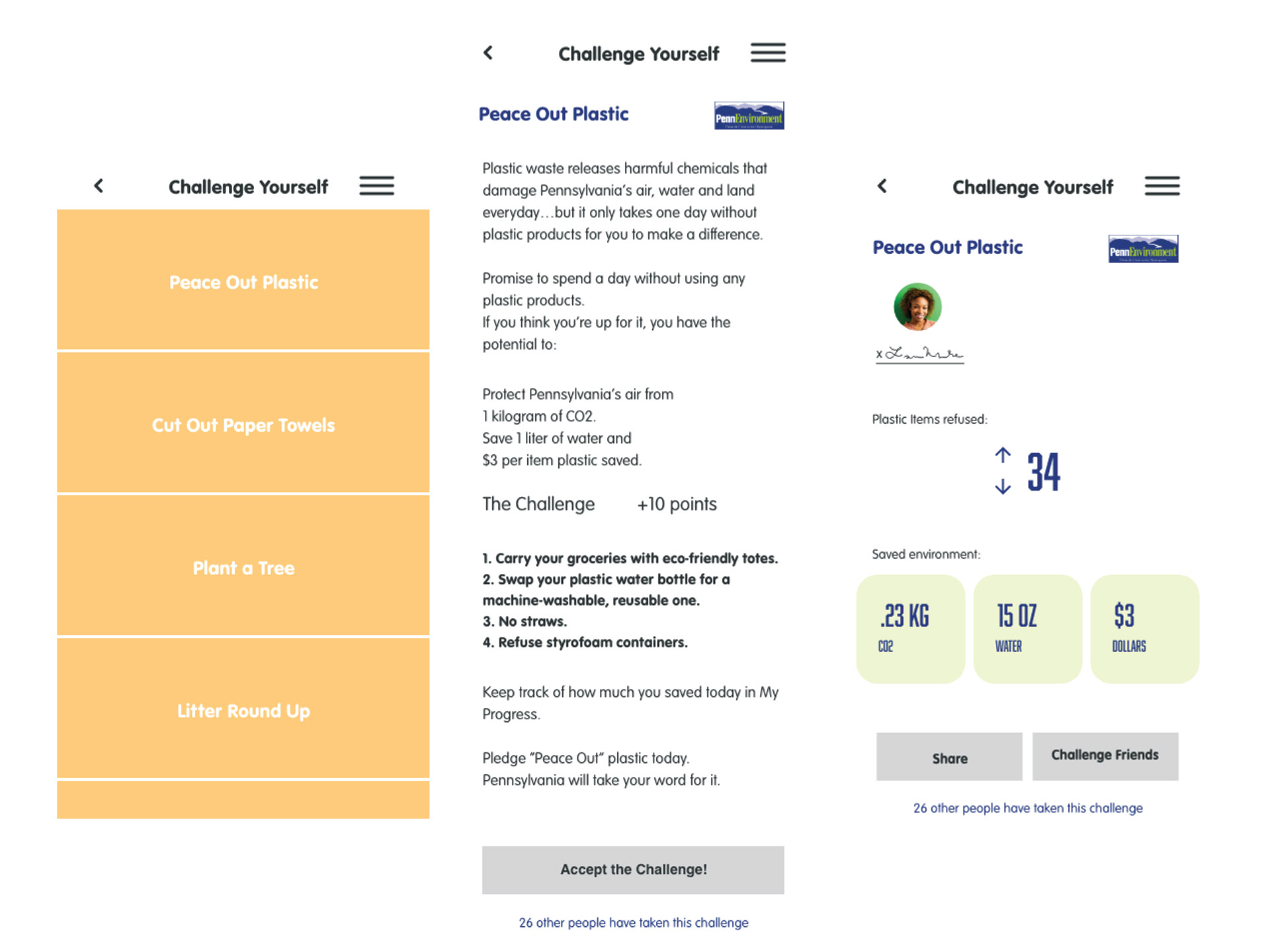 - Incentive
-Spreads awareness
- Generates buzz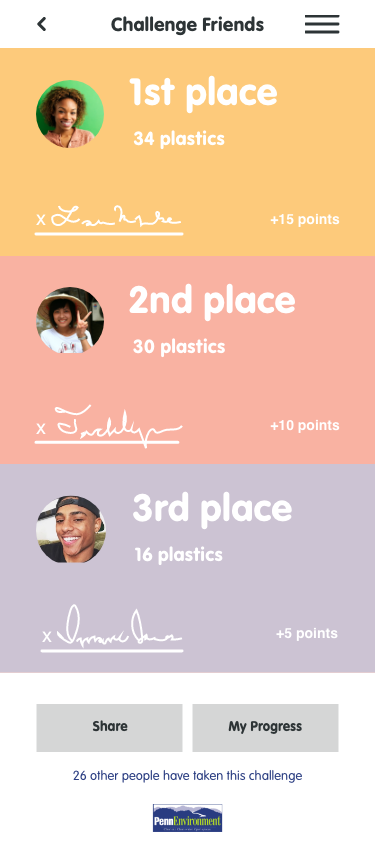 CHALLENGE REPRESENTATIVES
- Voice concerns personally 
- Pre-written scripts to encourage comfortability
- Social incentive 
- Actively logs and measures campaign results
PART TWO: Catching the target where and when they have time
While they wait for the subway.
While they hang out in university.